PADS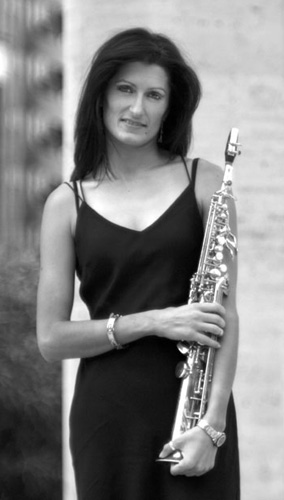 Claudia Di Pietro
Alto/Soprano Sax
Claudia Di Pietro was born in Genzano di Roma (Italy) in 1978. Still young, she started the study of the saxophone with Vincenzo Romanelli, playing in several marching and big bands in Ariccia and Genzano (Italy). In 2004 she graduated in Saxophone at the Conservatorio di Roma "Santa Cecilia" under the guidance of Alfredo Santoloci. She continued her studies, attending the courses in jazz and improvisation held by Gianni Oddi, the master class held by Daniele Caporaso, and the advanced school for winds at the Conservatorio di Roma "Santa Cecilia".
Since the beginning of her career as a performer, she has premiered several new compositions, including "Em Plena Foresta" by Heitor Villa-Lobos (2001), as soprano/alto sax; "Missa Brevis" by Marcello Panni (2002), as tenor sax, at the Conservatorio di Roma "S. Cecilia"; "Façade" by William Walton (2002), with the European Union Youth Orchestra (EUYO) conducted by Jan Latham Koenig at the festival "Suono italiano per l'Europa" in S. Severina in Calabria (Italy).
She is founder member of the sax quartet "Saxophonia", specializing in Jazz and Classic repertoire. In 2001, she had been collaborating with the well-known jazz guitarist Sergio Coppotelli and his ensemble.
Currently she plays in "Cavalier Mario Mecheri's Band" in Genzano (Italy), and she teaches saxophone at the Accademia Musicale Ariccina (Italy) and in the music school "ArtinMusica" in Pavona (Italy).

webdesign
Valeria Di Matteo