PADS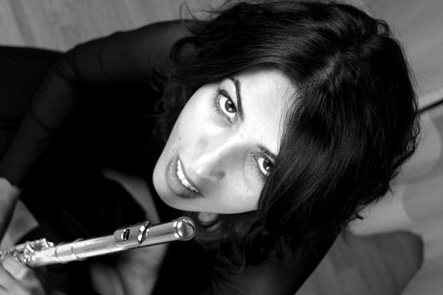 Alessandra Amorino
Flute/Piccolo
Alessandra Amorino was born in Lagonegro (Italy) in 1978.
She studied Flute at the Conservatorio di Cagliari "G. P. da Palestrina", graduating under the guidance of Giovanni Errichelli. She graduated also in Chamber Music at the Conservatorio di Roma "Santa Cecilia" in 2003. She continued her musical studies under the guidance of Raymond Guyot at the Accademia Italiana del Flauto in Roma, and under the guidance of Michele Marasco, Carlo Macalli and Andrea Oliva. She studied Piccolo with Nicola Mazzanti and Bruno Lombardi.
She won the competition for chamber music performers "Assami" in 2001, with a perfomance of the piece "Addio..." by Silvia Colasanti. She got the Berio Prize for the best performance of "Sequenza I" by Luciano Berio on the occasion of the awarding of the fellowships "Severino Gazzelloni" in Firenze in 2002. She passed the selections for and played in many Italian orchestras, e.g. the Orchestra Giovanile Italiana, the European Union Youth Orchestra, the International Youth Orchestra "Fedele Fenaroli"of Lanciano, the Orchestra Italiana del Cinema, and the orchestra of the Teatro Lirico di Spoleto (59th opera season of the theatre). She has been playing in the Roma Tre Orchestra since 2002, and in the Orchestra Filarmonica Romana since 2006. As a member of the latter she participated in worldwide tournées (e.g. Amman, Jordan, 2006).
Her versatility and curiosity as a musician, led her also to explorations outside the boundaries of classical music and to the collaboration with jazz, rock and pop musicians, bands and orchestras. Since 2009 she has been playing in the Orchestra Sinfonica Universale conducted by Renato Serio, participating in events like the Italian songwriter Renato Zero's tournée in 2010, and the show "Centocinquanta" broadcasted by the Italian public television RAI in 2011. In 2011 she played and tourneed in the orchestra conducted by Beppe Vessicchio accompanying the Italian progressive rock band PFM.
Since 2006 she has been collaborating to the recording of soundtracks of many cinematographic productions, performing music written by distinguished composers like Ennio Morricone. Since 2009, she joined the project "L'Anima Ferita", which compounds visual art and electro-acoustic music. In 2008 she won a M.U.S.A. scholarship paid by Cesfor Lazio for a period of study in music and art management in Cork, Ireland.
Parallely to her activity as a flute performer, she has always showed interest in Art and Art History and she achieved with the highest honors a M.A. degree in Art History at the Università "Roma Tre" in 2006.

webdesign
Valeria Di Matteo